Last nights game, again Sam and Jon feel free to pick me up on anything I forgot, take note in the diagrams of the amazing disappearing/reappearing hill. no Idea what happened there,  
Scenario- Keii, 35 Rice
Cult of Yurei
Nezumi 7
Rat swarm 6
Small swarm 1
Gengo  5
Kato  11
Ashigaru Kairai 5
Temple of Ro-Kan
Master Ekusa 12
Hotaru  7
Kitsune (fox) 9
Koji  5
Goji & Lita 2
Turn 1- Tokens- 0/0, VP- 0/0
All the Models advanced except for Ekusa (who focus-waddled) and Kato (who focused). The Ashigaru stole some Ki from Kato and moved up the east flank opposite Hotaru and Ekusa with Gengo. In the centre Koji and his Macaques took position around the Idol, whilst on the west the Rat swarms scurried forward with Nezumi who spawned another, which was promptly stamped on by a shapeshifting Kitsune for first blood.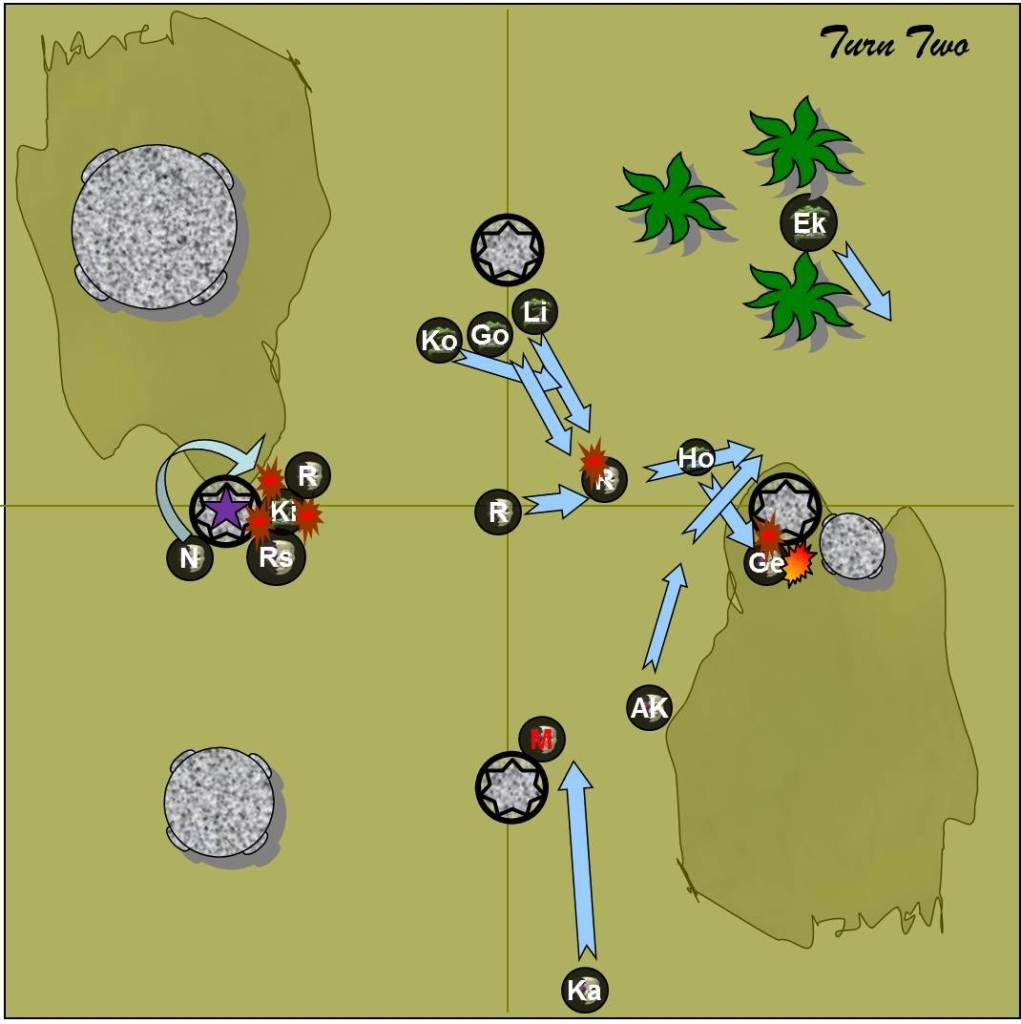 Turn 2 Tokens- 2/0, VP- 0/0
Kitsune kicked off the second turn by jumping into melee with the large Rat swarm, unfortunately the vermin dodged her flying blades with ease, although they failed in turn to do any damage to the plucky Fox girl. Nezumi reacted by spawning another rat, then moving the two of them up into Kitsune for an all-rat brawl, the heavily outnumbered Kitsune succumbed to the mountain of fur and caught a bone club to the back of her head, removing her from the game. On the other flank Hotaru 'Flamed on' and engaged the blubbery Gengo, and although she only caused a single wound she set the burakumin butcher on fire… a lot… Nezumi popped a token in the Idol behind him for 2 points, but the rat swarm in the middle of the table paid for its stationary position when Goji and Lita decided they wanted rat kebabs. The Ashigaru Kairai wisely decided against setting itself on fire aiding Gengo, and instead moved to block any attempt to drop a token in that idol by Koji or Ekusa, guaranteeing me the first VP. Koji decided the monkeys should take out the Kairai with his help, but although bold Goji runs in and survives, Lita fails her fear test, followed by Koji, some mocking of the two of them followed, swiftly ended by another flaming punch into Gengo's scorched double chins from Hotaru. He is at this point really, really on fire. Ekusa moves up toward the eastern Idol and Kato creates a marionette to block the Idol closest to my table edge. End phase- I gain a VP, Koji and Lita recover and Gengo starts to smell a little singed…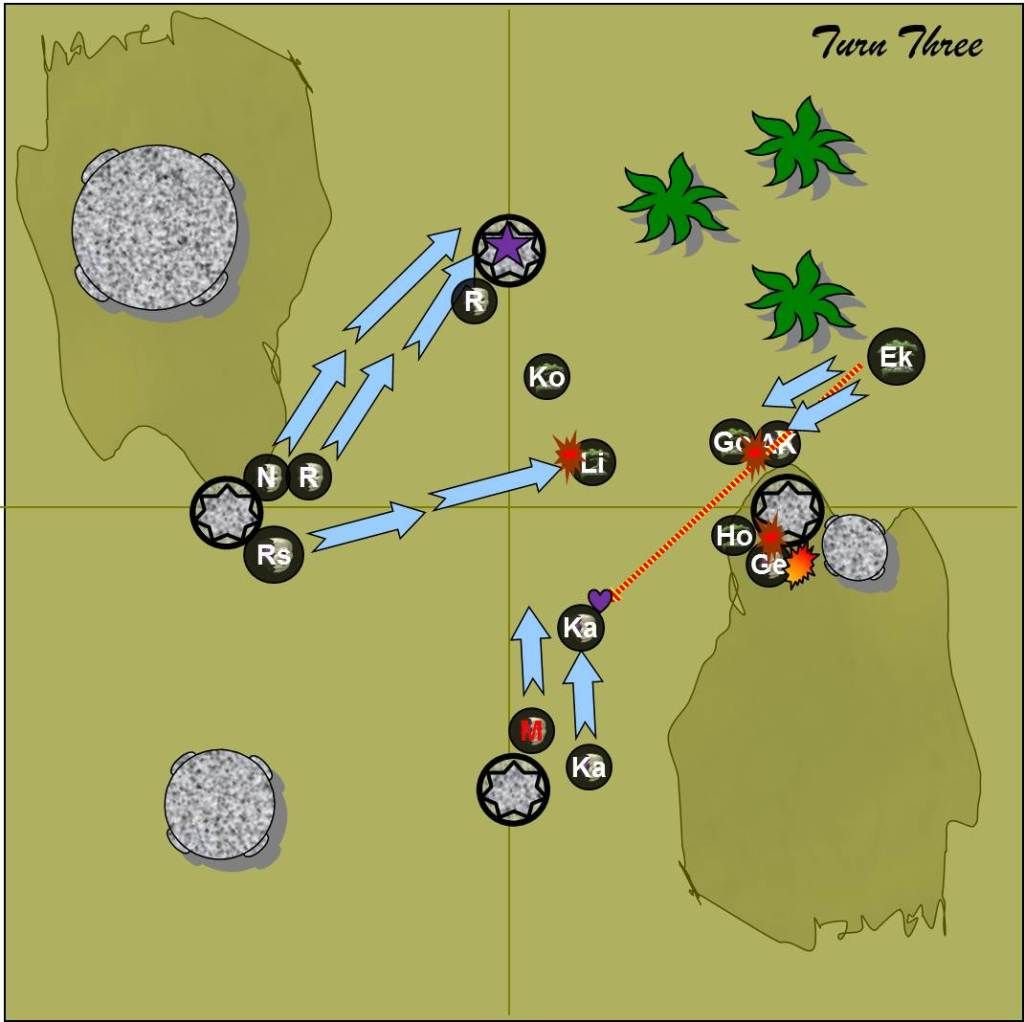 Turn 3 Tokens- 3/0, VP- 1/0
Koji and his pack attempt to redeem themselves by taking out the Ashigaru, only for them both to fail their fear tests again! (girls) the big rats take advantage of Lita's demoralised state to run up behind her and eat her (nom). Ekusa blasts Kato with contemplation of existence, taking both him and the marionette out of play this turn, then moves up closer to the idol. Gengo takes another savage beating from Hotaru, though at least she's not on fire this turn. The Ashigaru Kairai kills brave Goji, and Nezumi moves up, spawns a rat and drops another token in the Northern idol for 3 points. End phase- Koji recovers, Gengo becomes chargrilled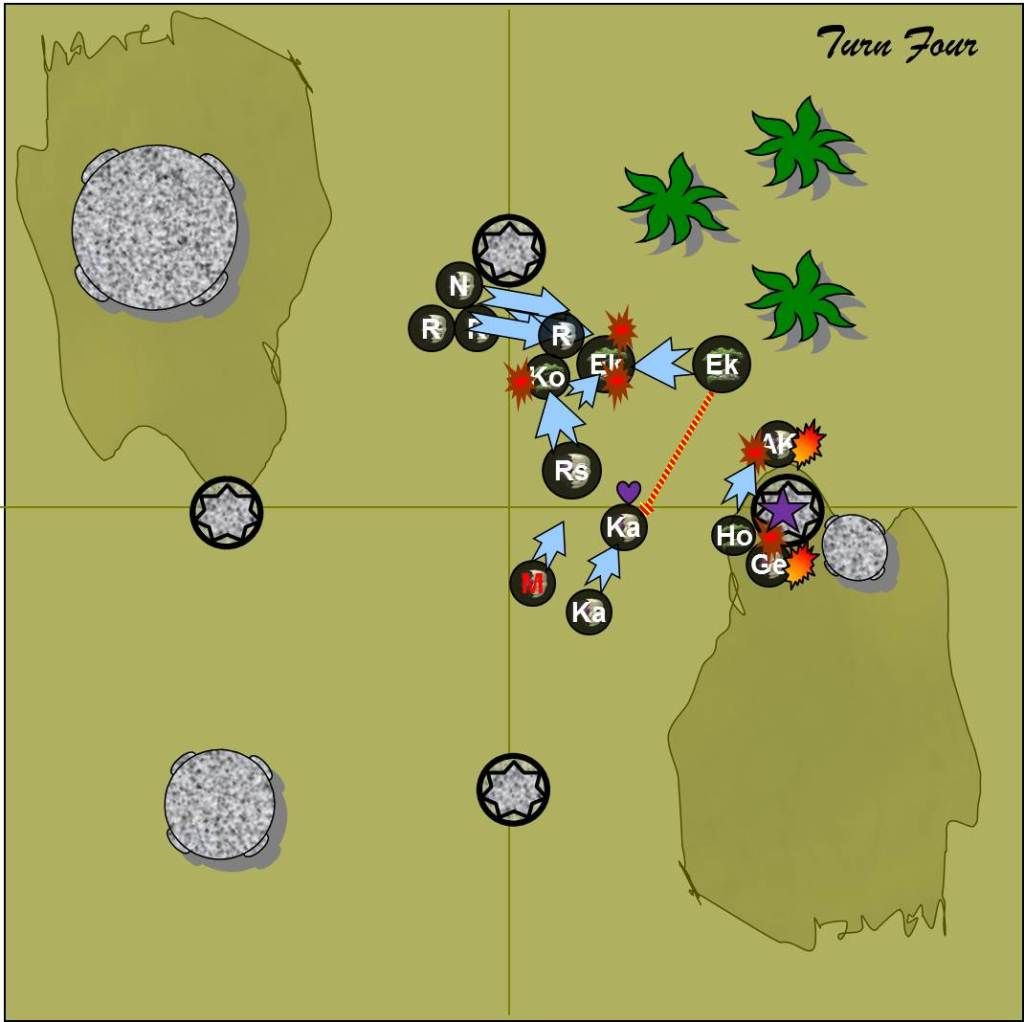 Turn 4 Tokens- 3/0, VP- 1/0
The large rats see Koji, and mistaking him for another tasty (and furless) Macaque quickly devour the monk, despite him attempting to hide up his stick. Gengo finally succumbs to Hotaru's flaming fists, whilst next to them the Kairai souls itself up to deliver another 2 point token to the Idol next to it. Hotaru takes offence to this act of desolation and fires herself up, delivering a bone crunching kick to the Karai's spine, leaving it fiercely burning up with a single wound remaining. Kato quickly advances to within range to throw 'Rise again' on the beleaguered Ashigaru, before Ekusa once again challenges him to have a good think about his evil Karai creating ways. The large rats decide turtle is next on the menu, and although the wise Ekusa is unphased by their assault he fails to push them back, leaving himself open to an attack by Nezumi and his spawned rat friends. I attack with the rats first for fun, and end up causing 4 wounds on the serene master. End Phase- I gain second VP, Kairai dies to the Fire (we decide rise again does apply, although he stays on fire)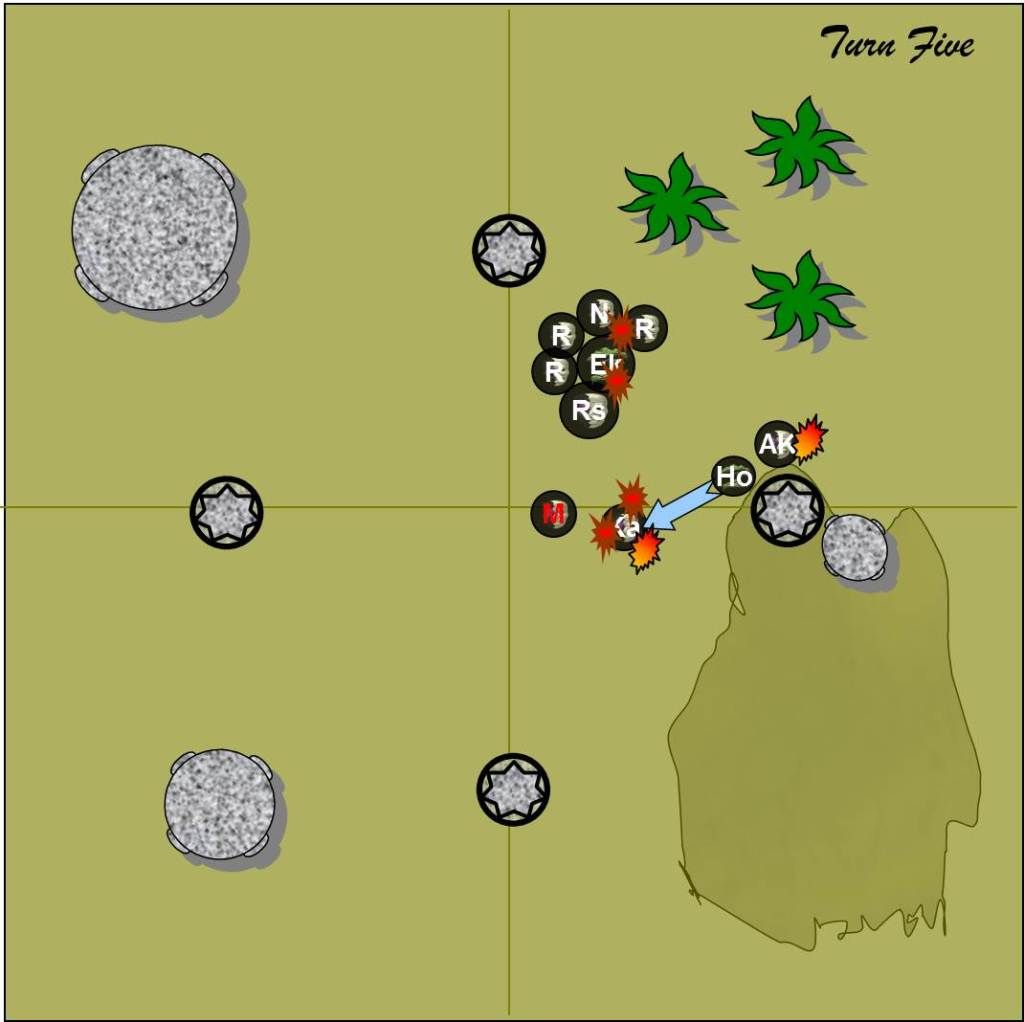 Turn 5 Tokens- 0/0, VP- 2/0
Hotaru decides that its time to get rid of the puppet master permanently, and due to the fact the Kairai is prone and not in combat, the Stubborn monk can actually walk away, engaging Kato and causing several wounds, and again setting him on fire. (Kato makes a mental note- Kairai with bucket of water needed) I decide to finish Ekusa before he drops the aura I know is coming next, and Nezumi's by now gore spattered bone club does the job nicely. Another super powered whomp From Hotaru that doesn't even need to set the old puppeteer on fire sends him off the field, but Sam concedes the game at this point, with Hotaru his only survivor and a lot of rats on the prowl…
Thoughts
The large rats are both a durable tar pit, as well as a fearsome foe, although they are once again unable to contest objectives so swapping them for Kairai makes the most sense, for dealing with them I would say Kitsune (on a better dice day) and Hotaru would be the best, as you need to hit them a lot and very quickly to get rid of them. They make a great team with Nezumi, combined assault giving him a good CP too, and the mess of little swarms just getting in the way and feeding it in the end phase.  I have to say I absolutely loved using them, they were ace.
The Ashigaru kairai was a last minute addition to the list, as I initially wanted no Kairai but he was the right price, and actually he was an absolute star. It's rare at the moment to fight opponents that aren't brave/fearless/fear causing themselves, and it's easy to underestimate how powerful fear can be, in this case crippling a third of his force for two turns in a row, leaving poor Goji to fight the Kairai alone.
Hotaru worked very differently from our initial ideas about her, she can dump a lot of tokens very quickly, and only needs to cast her feat once per opponent for maximum effect, so whilst it looks expensive it is quite efficient, her real issue is stubborn, she needs to get in, set things on fire again and get out, so I would suggest teaming her up with another monk with a throw/slam trigger so she can then move off and focus on another model. When burning she is a real threat, as any models you would send in to help out are just more models to set on fire, making her feat even more efficient, and any low wound low CP creatures (rats, monkeys, bakemono, children) should just stay away from her (A single rat swarm will always die, as with only one dice she will always either successfully attack or defend, triggering at least 2 tokens, owch)
<edit> Meant to put something about the scenario- this is a great scenario, properly machiavellian in its complexity, having the scores reset after the VP is awarded changes it massively from anything else I've ever played. Do you hoard your tokens for turns 4 and 6, or eke them out throughout the game? do you go for cheeky 1 pointers or risk it all chancing you'll get to the three in two turns? Do you guard your Idol or the central two? genius. I take my hat off to whoever wrote it, it's probably one of my favourite scenarios of any game ever.
Overall I enjoyed the game, was great to use some wave 6 and see how they worked in more than theory, Rudders may have some photo's if we're lucky :-)
Mick